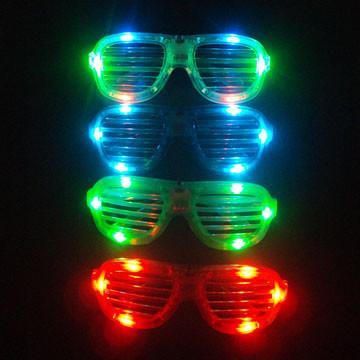 Light Up Sunglasses
We specialize in manufacturing of electronic devices and promotional products.

Our products line includes Flashing Sunglasses, Light Up Sunglasses, Light Up Tunnel Light, Flashing Ice Cube, Flashing Hair Braids, Flashing Mouthpieces, Flashing Coaster, Flashing Hula Hoop, Flashing Cell phone Stickers, Flashing Necklace, Flashing Mug, Flashing Champagne Glass, Flashing Spinning Ball, Flashlight, Flashing Finger Light, Flashing Shot Glass, Flashing Shoe Light, Flashing Bracelet, and other various promotional gifts , such as Bottle Opener, Bookmark, Lapel Pin and metal badges,Solar Charger, Solar Keychain.
We are always developing and designing new products according to the market demand. Plus, we are able to custom-make any of the products required at a reasonable cost and still provide you with our high quality products.